Contact Us / Book Champions Villa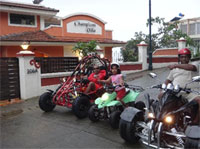 ChampionsVilla is a luxury concierge experience supported by Numerous Luxury Vehicles, Boats and Yachts. It's definitely a place worth investing your quality time when at Goa which overlooks the pristine Bambolim Sea.
ChampionsVilla is located in a private luxury cluster home community on the hilltop of Bambolim. The residential place consists of 5 well-equipped yet spacious luxury bedrooms with a private mezzanine floor overlooking the pristine Bambolim Sea which is hardly 800 meters from the Villa.
Villa Description:
5 well equipped en-suite bedrooms;
Free Wi-Fi and Mini Fridge
Lifts for all the Floors
Private Rooftop Garden on the Terrace  
Spacious Mezzanine hall for Conducting Meetings/Team Building activities
Villa facilities include Gymnasium, Home Theatre with Woofers, Music system, ATV's, Well-equipped kitchen of European standards and more.
Jacuzzi
Swimming pool in the complex which is located on the territory of the Villa
Barbecue area, Lounge Bar.
Services available:
Private car with driver/without driver (by request)*
Everyday cleaning services/by request. The Change of bed linen is conducted every 3 days
On the territory of the complex you will find:
Please Contact our Concierge Manager for Full range of Services We have at Champions Villa Today!
Location:
The Villa is located in a popular yet modern luxury secured complex Aldeia De Goa.
Near the complex you will find the 5 Star Hotel Grand Hyatt (800 meters).
The beach is located just at a distance of 800 m from the Villa.
It is just a Kilometer away from Goa Medical College, Bambolim
Please confirm with our Concierge Manager before you book at Champions Villa. We would like to make it exclusive for you the Champions Way during your stay at Goa!!

We always like to keep it limited yet opulently personalized for our Guests. This is why we always insist on Confirmation so that our Guests can take back from Goa precious memories during their much-needed relaxed stay at Champions Villa.

We also have a Chauffeur in the house with a provision for a 7 seater ATV and a 4*4 ATV for the Adventurous Explorer to roam around the Villa*. For the palatial food lover rest assured you will be served nothing but the best in Traditional Goan, Maharastrian and Konkani Cuisine from our F&B Head.

And yes Evenings are best enjoyed the Champions Way over a Boat Yacht or a Catamaran Drive which is exclusively offered to our Patrons from the Champions Yacht Club.
More Information can be availed at www.championsyachtclub.com
We look forward to your stay at Champions Villa where I sum it up by adding "Have a Great Stay at Champions Villa!!